tide's 'Front of Mind' Campaign
tide – together in dementia every day, is an innovative, UK wide charity. Our mission is to connect and empower carers of people with dementia. We enable them to use their experiences to shape local and national dementia policies and services. 
This year we are delighted to be launching our joint campaign with Roche, who are committed to supporting tide in making positive social change in relation to dementia care and support. To mark the launch of the campaign we have released a report titled 'Creating a fairer future for people living with Alzheimer's disease'. This report outlines the challenges in the dementia pathway and advocates for the changes needed to fix them 
tide welcomes the focus on unpaid carers in the recent Social Care White Paper, "People at the Heart of Care" as well as the announcement of a strategy for people with dementia and their carers being promised for 2022. tide continues to keep carers of people with dementia on the political agenda and we need your support to do this. 
What is the Problem?
It can take a long time to get a dementia diagnosis. The pandemic has made this even worse. Carers tell us support is virtually non-existent and when you finally do get a diagnosis there is no plan for what happens next. With any other medical diagnosis the clinical pathway is clear.
We often hear dementia support as being "a postcode lottery". Carers tell us without an official diagnosis, it's impossible to access local services and support. This battle adds to the frustration of carers leaving them lonely and isolated
Sarah Merriman, head of tide delivery, regularly talks to people who look after someone with dementia. She hears the same frustrations time and time again.
Sarah said,
"There is no dementia pathway, when someone is diagnosed with dementia, the current pathway leads you to the edge of a cliff."
John is a tide member who looks after his wife. John said,
"The memory clinic told my wife she had dementia and to make an appointment for a year's time. I was given a load of leaflets and that was it. We were left reeling and didn't know what to do next"
Whilst the health and social care system is dealing with the effects of the pandemic, there has been a sharp decline in the number of people being diagnosed with dementia. It is estimated nearly 270,000 people living with dementia over the age of 65 do not have a diagnosis.
There has to be an urgent change to how we treat people with dementia, with an estimated 1.5 million people expected to be diagnosed by 2040. This is an ever-growing crisis that needs urgent intervention now.
What are tide doing to help?
Front of Mind is a campaign putting carers needs at the heart of dementia care. We are calling for the following changes:
For a greater awareness and understanding of dementia
For people living with dementia and their carers to be more involved in policy decisions that affect them
For clinical pathways to be clear and supportive through-out a diagnosis and beyond
How can you help us?
We need your support to raise awareness of this campaign. You can help lay the vital ground-work by spreading the word. Our voices are stronger together. We must speak up for people affected by dementia.
ENDS 
Notes to Editors
For more information at launch, please contact rebecca@tidecarers.org.uk
For more information on tide – Together in Dementia Everday, head to About Us
Download a copy of the Front of Mind briefing 
Front of Mind is a joint campaign by Roche Products Ltd and tide. Roche funded the development of the campaign collateral and branding. Roche has not had direct involvement or editorial control in the development of this website content.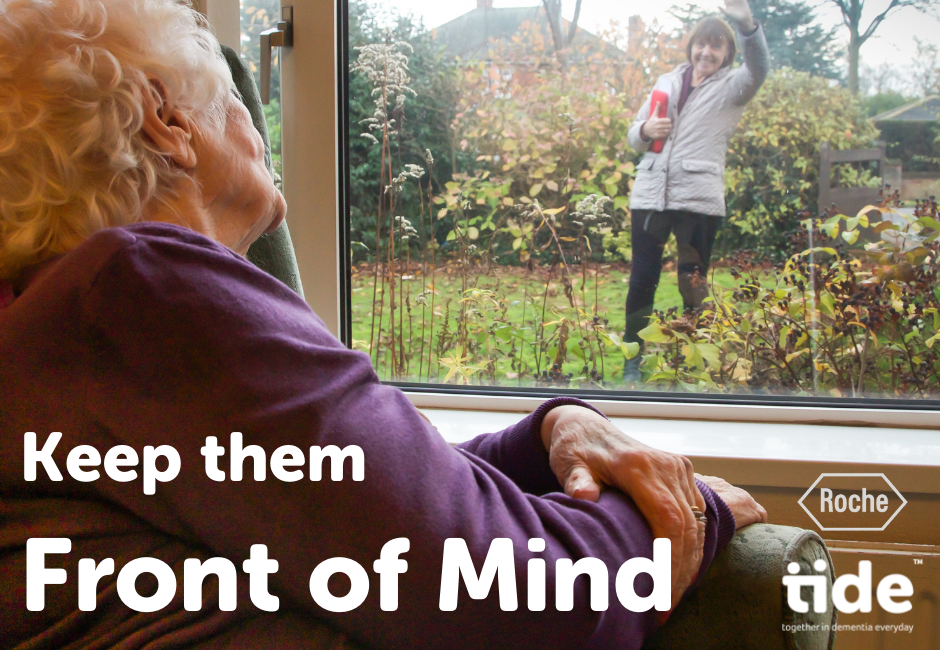 Want to support tide's Front of Mind campaign online?
What's included?
Posters for Facebook, Twitter & Instagram (use the hashtag #FrontOfMind)
Draft Tweets for Twitter & other platforms 
Share this press release on Twitter, Facebook and LinkedIn (share buttons are located at the bottom of the page)
Our work is only possible thanks to the generosity of our supporters
If you are able to, please consider

 

donating today