What If...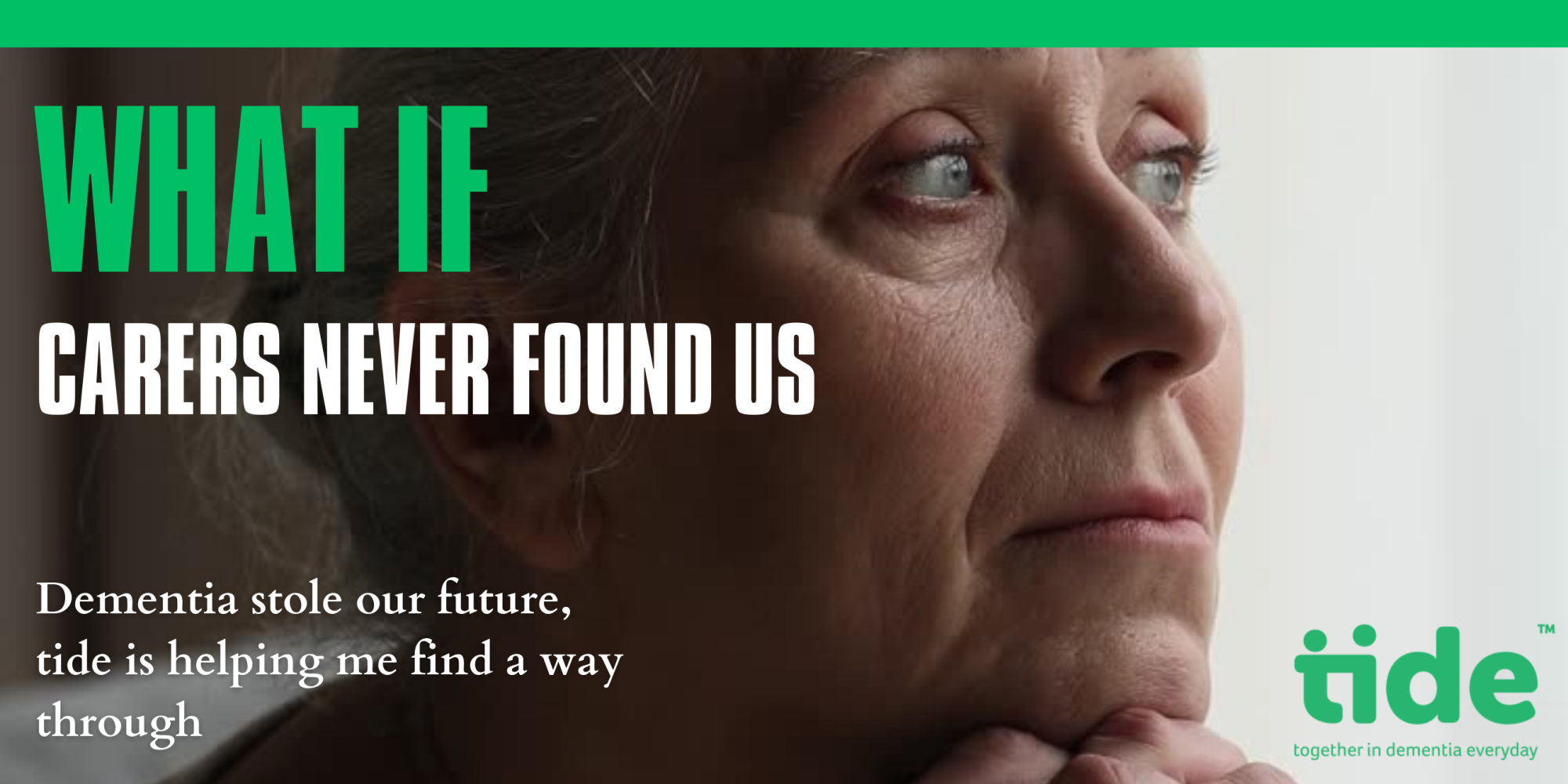 This is our urgent appeal. 
We are here for carers of people with dementia. But what if we weren't? 
We need your help. Whether you decide to make a one-off donation, fundraise for us or pledge a monthly gift, your contribution means that we can continue our vital work towards a better future for everyone affected by dementia. 
Why support carers of people with dementia?
There are 700,000 people in the UK alone who care for someone with dementia. Let's put that in perspective. That means one in three of us will care for someone with dementia in our lifetime. If you aren't a carer yourself, it's highly likely you know one. These people are our family, our friends, our colleagues. They are asking for our help. It's time we listen. 
Unpaid carers contribute £13.9 billion per year to the UK economy in the care they provide for their loved ones. Over 600 people a day have to give up work to be able to commit to their caring responsibilities. But they may receive an allowance less than £70 a week for 24/7 care. 
Things must change. We need a system that supports unpaid carers. At tide, we give carers the chance to have their say in the policies that affect them. We need a more understanding society. Because dementia isn't just their concern - it's everyone's. We work with organisations and professionals in health and social care to help them better understand the experiences of caring for someone with dementia.
Why make a donation?
We are a lifeline to those who struggle to care for their loved ones. As one carer said, "I felt empowered for the first time as a carer. tide gave me a voice". Every unpaid carer deserves this level of support from the moment they need it. We help them by...
Creating a network of current and former carers that can share their experiences and wealth of knowledge. We are a space where carers go for information and advice. Caring is a journey and we have so much to learn from one another.
We build carers' confidence, knowledge, and understanding in their caring role through our Carer Development Programme which has been co-produced alongside carers who are experts by experience.
We work with carers across the UK to tackle the root causes of the lack of dementia support.  We are committed to changing the future for unpaid carers by campaigning for their rights and ensuring we change policy and practice to better suit the needs of people affected by dementia. You can see our latest campaign here. 
When you set up a regular donation to tide, you become part of that long-term work to ensure we provide people affected by dementia with the support they desperately need. tide is a network of current carers, former carers, and dementia professionals who recognise a need for change and want to work towards it, together. 
This is our urgent appeal. As a small charity, we have struggled these past few years with the impact of the pandemic. Many charities have been forced to close their doors. We are sad to announce we may have to do so, too. 
Carers of people with dementia need us. And we need you. 
Why tide (Together in Dementia Everyday)? 
tide makes sure carers of people with dementia are listened to and valued. We are a UK-wide charity for carers of people with dementia who are influencing laws, policies, and practice. We get things done. And we're not going to stop until carers of people with dementia are recognised and supported. 
What If is our crisis campaign. We need your help more than ever. Generous donations like yours can help us create a better future for everyone affected by dementia. 
Please give what you can and donate online now. Thank you for your donation.
Watch Ray's story about caring for her husband with dementia 'You Grieve For The Life You Should Have Had'
.
.
Help us spread the word about our What If campaign! Get involved and share this page on social media (share buttons are at the bottom). You can also download our promotional pack with posters and suggested social media posts!