Sue's Fundraiser for Carers!
Bangor to Aberdaron on the North Wales Pilgrim's Way
I look after my 82 year old husband John who was formally diagnosed with mixed dementia 7 years ago. I have a nursing background and was also a commissioner of services for older people, so thought I knew quite a lot about dementia. However, living with dementia is a completely different experience.
I first became involved with tide about 4 years ago. I undertook various courses through the Carer Development Programme which I found extremely useful. I also met other carers and then during lockdown when we met on Zoom I found these meetings so helpful and supportive.
I'm also very involved with the Alzheimer's Society and have been instrumental in working towards St Asaph becoming a Dementia Friendly Community. My life is all things dementia now and both tide and the Alzheimer's Society have become very important to me. But tide is a relatively young charity and so was my chosen charity for my sponsored walk.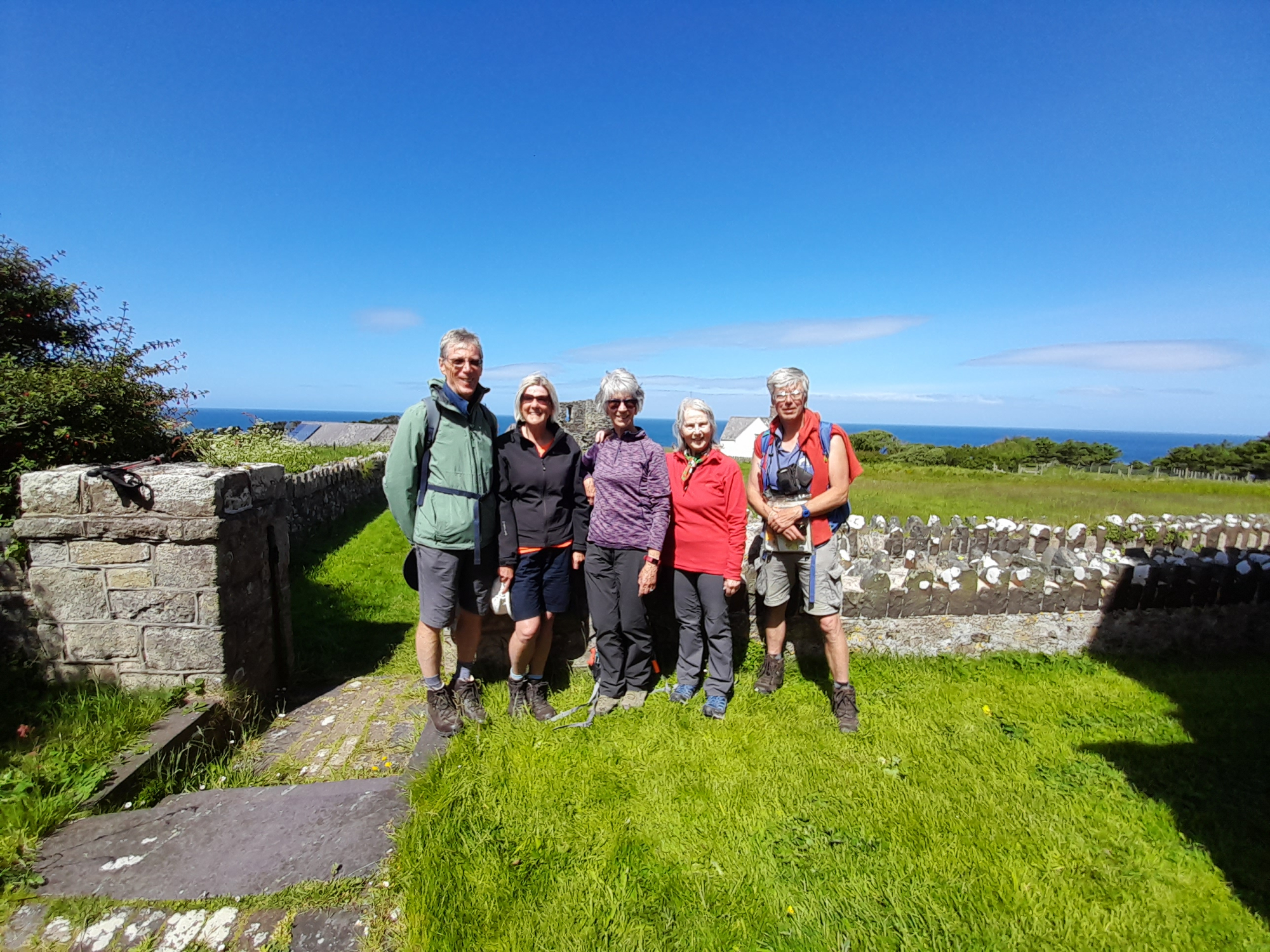 The walk from Bangor to Aberdaron forms part of the North Wales Pilgrim's Way, a long distance walking route following in the footsteps of the Celtic saints of the sixth century. The entire route is 135 miles and I have walked the full route on our annual pilgrimage since it was first established in 2011. John and I used to undertake this annual pilgrimage together so it's a particularly poignant time for me. This year I was only able to undertake a week of the walk while John was in respite care. I chose the second week which takes in the coastal path on the north coast of the Llyn Peninsular, with stunning coastal scenery
The experience as ever was wonderfully spiritual. I am an outdoor person and walking is my stress buster! I have used this walk in previous years to fund raise for our local hospice where I was lay chaplain for 15 years and where I am able to access respite care for John twice a year. I set my target at £500 as I wanted to be realistic in these financially challenging times. Also as I have fairly frequently undertaken sponsored walks I was aware my "usual suspects" might be fed up by yet another ask from me!
And so on Saturday 21st May I set off to Bangor to join my fellow pilgrims. The route is well known to me but it never fails to fill me with joy and at the end of the first day we reached Llanberis. The following day was the most challenging in many ways. The pull out of Llanberis is strenuous and it rained nonstop as we then traversed the open moorland to Penygroes. We were absolutely drenched!! But that was the only rain we had. We were also lucky with tides as we were able to walk along the beaches on many of the days, always an added bonus. The flowers along the way are always a delight and we walked on carpets of pink sea thrift and blue squill on the cliff tops. We saw basking seals below us while gulls, and cormorants and chuffs soared overhead, and the constant sound of oyster catches ringing in the wind.
It was a wonderful week and every time my phone "pinged" letting me know someone had donated to my JustGiving page I was thrilled. One day as we were sitting in a glorious spot having our picnic my phone pinged and I had a donation of £1000. At first I thought it must have been a "typo" But it wasn't. It was from The Barber Surgeon's Livery Company of London. John is a member and was their Master some years ago. As you can imagine my walk continued that day with an amazing spring in my step!!
We arrived in Aberdaron after 6 days of walking covering about 80 miles. The pilgrimage actually ends on Ynys Enlli, Bardsey Island, (the isle of 1000 saints)and we were fortunate in the weather so able to cross the following day to enjoy the peace and tranquillity of that most spiritual place
I couldn't have been more wrong about being afraid people might not sponsor me! Everyone was amazingly generous and I raised over £2000. In addition to that I was able to spread the word about tide!